Reality Squared Games (R2G) site games footer

Games with 0 wikis:

Excalibur - Odyssey RPG - Zombies Ate My Pizza
Games with 1 wiki:

Blade Hunter - Blood and Jade - Broken Realm - Castlot - Dragon Pals - Wartune - Yitien
Games with 2 wikis:

City of Steam (COS & C-O-S) - Crystal Saga (CS & C-S-O) - Eternal Saga (ES & E-S) - League of Angels (LOA and L-O-A) - Magic Barrage (MB & M-B) - Shadowbound (SB & S-B)
Games with 3 wikis: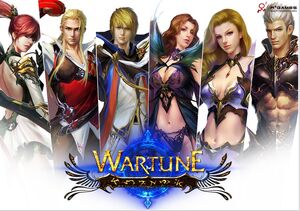 Welcome to the Wartune Wiki
Edit
Official R2Games.com Wartune Wiki!
Wartune is a refined free-to-play 2.5D browser MMORPG released by R2Games. Wartune encompases multiple types of gameplay into one experience. Strategy, turn-by-turn combat, role-play adventure, and city building are all main components of Wartune gameplay. It also features single and multi-player dungeons, PvP arenas, competitive battlegrounds, thousand-player boss battles, guild system, farming, and much more.
Wartune Gameplay
Edit
Wartune Features
Edit
Wartune PvP Battle
Edit
Wartune Vip
Edit
Wartune Strategy Guides
Edit
Wartune FAQ
Edit
Latest activity
Edit
Ad blocker interference detected!
Wikia is a free-to-use site that makes money from advertising. We have a modified experience for viewers using ad blockers

Wikia is not accessible if you've made further modifications. Remove the custom ad blocker rule(s) and the page will load as expected.