Visit the Bounty Hall to receive up to 20 bounty quests per day. Bounty quests are separated into different levels represented by five colors: white, green, blue, purple and orange, with white being the lowest level and orange being the highest. The higher the level, the larger the reward offered. Bounty quests reset automatically every 30 minutes or can be reset manually using Balens. Two free resets are allowed per day.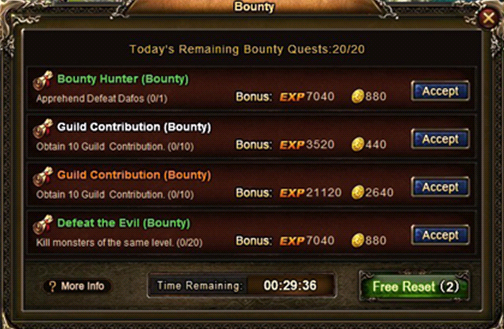 Notes:
· Only one bounty quest can be accepted at a time.
· Bounty quest counters reset daily at 5 AM.
Ad blocker interference detected!
Wikia is a free-to-use site that makes money from advertising. We have a modified experience for viewers using ad blockers

Wikia is not accessible if you've made further modifications. Remove the custom ad blocker rule(s) and the page will load as expected.